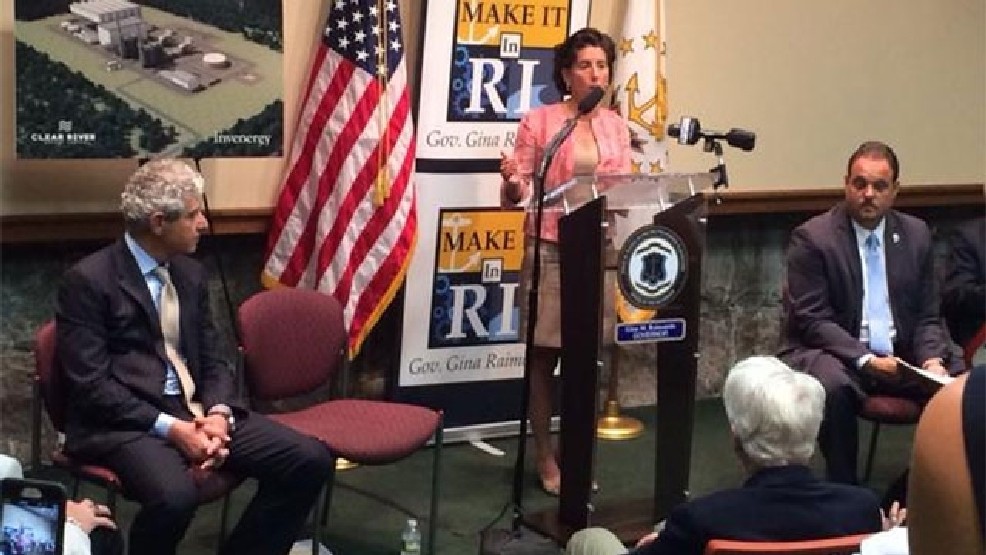 It's a Matter of Trust"…and we don't trust the process.
Like the singer Billy Joel said, "It's a matter of trust" and well, we just don't trust the process anymore. It's not that we don't want to, but we repeatedly see violations of trust even though Governor
Gina Raimondo
told Rhode Islanders to "trust the process" regarding the approval of the massive fracked gas and oil power plant proposed for the pristine woods of Burrillville right next to George Washington Park, Pulaski Park, and Buck Hill.
The violations of trust include:
The sneaky meeting in Johnston last week,

for which there was no public hearing and the meeting was NOT noticed on the town website or calendar

, where the Mayor and Town Council agreed to sell millions of gallons a year of Rhode Island's water from the Scituate Reservoir to Invenergy for their proposed power plant. This deal came after both water boards in Burrillville, Harrisville and Pascoag, and then the Woonsocket Town Council had turned down similar deals over concerns. Even Providence Mayor Elozra released a statement that he would not be in favor of selling Providence's water for the plant. Johnston gets their water directly from Providence, from the same Scituate Reservoir that 60% of Rhode Islanders, including 14 other cities and towns, get their water from! Oddly enough, reports indicate that the meeting was packed with members of local unions while Johnston citizens were stuck outside, unable to get in to hear what was happening. Of course, in the end, the cheers that rang out from the union members told those stuck outside all that they needed to hear, a deal had been made. Whether the meeting or the resulting agreement was legal or not will likely end up being a question for the courts. http://www.rifuture.org/johnston-de…
Then there is the fact that the Rhode Island State Planning Agency left

eight major elements

of the Rhode Island State Department of Planning's master "Guide Plan" for Rhode Island, relevant to the question of the power plant's impact on ecology and outdoor recreation in the forests of our tri-state corner, completely out of the department's formal Advisory "Opinion" to the Energy Facility Siting Board . The Energy Facility Siting Board (EFSB) has the sole responsibility to approve or deny the plant. They appear to have deferred this to RIDEM but RIDEM did not include them either.

Note: That critical info is still missing…more on that to come.

Also keep in mind that, "

The State Guide Plan, Land Use 2025, identifies all or parts of each of these towns [including Burrillville] as being outside the "Urban Services Boundary." The plan directs the state and local communities to concentrate growth inside the Urban Services Boundary, where there is sewer, water, and other services, and to pursue significantly different land use and development approaches for rural areas. The plan emphasizes that Rhode Island's long-term economic health depends on this distinction of urban and rural areas. The rural towns have included this guidance in their comprehensive plans, pursued grants to expand conservation areas, and zoned for rural protection. But in recent years the legislature, state agencies, and governor have taken actions that violate the urban-rural distinction of the State Guide Plan."

http://www.thewesterlysun.com/opini…
Then we learned that truly alarming fact, the company decided, as part of their latest plan submitted to EFSB, that it's cheaper to send tanker trucks of water, oil, and ammonia up Route 295 from Johnston, then along the narrow 4 lanes of Route 44 through Greenville, then up the small country roads of Route 100 through Burrillville, instead of building the necessary pipeline. This route takes those tanker trucks directly past no less than 3 Elementary schools! As per the latest update to the EFSB, there will be 10 – 32 tanker trucks per day (round trip) just for the water deliveries alone! Are you on the truck route? Do any of your kids go to the schools on the truck route below in Greenville or Burrillville? What about clogging up already congested Rt 44 through Greenville and charming Chepachet with all these massive 18 wheeler tanker trucks?

We also see that the Governor is now appearing to tout Rhode Island as an environmental/renewable energy leader. Yet, she refuses to pull her support from the fracked gas and diesel oil burning power plant that will instantly contribute over 3.6 Million tons of CO2 to the atmosphere, making it impossible to meet the resilient Rhode Island act. Any investment in renewables is good and, yes, Rhode Island should be proud of hosting the very first offshore wind farm and other renewable investments, but the Governor still refers to fracked gas as a "bridge fuel" to help lower energy prices. This she says, even though her own party has removed that legacy concept from their platform. Furthermore, the significant ratepayer claims have been publicly disputed and proven to be exaggerated. All this while the good people of Burrillville already suffer under the weight of an existing power plant and an incredibly disruptive gas pipeline compressor station. http://www.rifuture.org/raimondo-do…http://www.clf.org/blog/invenergy-k…http://turnto10.com/news/local/neig…
Over the last several months there have been public hearing after public hearing about the proposed power plant in various towns across the state. In all of those hearings the majority, literally HUNDREDS of people, have spoken out publicly AGAINST the plant. In fact, it seems that the ONLY people to speak in favor of the plant are always in some way associated with various groups that stand to make money from building the proposed plant. Meanwhile, pretty much everyone else, including thousands of citizens who have signed various petitions, 17 cities and towns, every major environmental advocacy group (including Audubon Society of RI, The Nature Conservancy of RI, Save The Bay, ECRI), Blackstone Valley Tourism Council, Blackstone Valley Heritage Corridor, a multitude of state reps, senators and other industry and thought leaders, have all formally opposed the project. All of these hearings have been covered publicly by various papers, the news media,

and yet, the beat marches on

. Note: Click here for the up to date Opposition List.
Then this week we see the Governor join the health care rally in Johnston with the Mayor,

yes the same mayor sold Rhode Island's water to Invenergy

, and she talks about how important health care is when we know that burning fossil fuels is dangerous to our health. Note: We also just learned this week that in 2015 Rhode Island was the only state in Southern New England to see our emissions INCREASE, directly because of the

existing

gas and oil plant that Burrillville already hosts. What emission was at the top of the list? It was ammonia! We are not just talking about climate emissions, these are health related emissions too! http://www.ecori.org/pollution-cont…
Lastly, and probably most importantly, we have always been concerned that

all three members of the Energy Facility Siting Board,

with the sole responsibility to approve the plant, report to the Governor. However, from the beginning the Governor stood shoulder to shoulder with Invenergy's CEO and local union leader Michael Sabitoni at the press conference to welcome them to the state and promised to make sure that they are successful here.

Keep in mind that was before the approval process had even begun but after the Governor received the maximum donation from both CEO Michael Polsky as well as their local attorneys.

http://ripr.org/post/political-supp… (Note: since the publishing of this article the Burrillville Town Council has shared all details of the proposed tax agreement, been fully transparent about their efforts to protect the town, and have come out publicly against the plant. They did sign a tax agreement to protect the town in the event the plant is sited and have committed to use the upfront money to actually fight against the plant.)
Governor Gina Raimondo, it's been one too many blows for the people of Rhode Island, so please forgive us if we don't "trust the process." And again, like Billy Joel said, "We've all had our share of believing too long, when the whole situation was wrong." Governor, it's a matter of trust and today, as you give your State of the State address to the people of Rhode Island, it's a problem when your people have lost trust. The ball is in your court to prove to us otherwise. Your statement that "if there are problems with the plant you suspect they will not approve it" no longer goes far enough. Experts, Agencies, and now citizens are already pointing out the long list of problems (we can provide that to you if needed). The citizens of Rhode Island are demanding more.
What can we do?
Despite the violations of trust, we do now take inspiration from the Governor's own words this week at the Health Care Rally in Johnston, the very town that gave Invenergy their water source which could ultimately pollute our air, land, and water. There the Governor said,
"If we make enough noise, they will listen. The stakes are too high not to. This is life and death. This is our friends, our family, our neighbors, our kids…if we make enough noise we can try to prevent this, we

will

prevent this, and we will save lives…and we'll have a stronger Rhode Island."
Based on the Governor's own advice from this week we are now urging everyone to POLITELY & RESPECTFULLY contact the Governor and her office to let them know that you are strongly opposed to the Clear River Energy Center proposed for Burrillville, Rhode Island. It's easy and it only takes a second to send a quick note letting her know that you are opposed to the plant and then if you want, tell her why. Email the Governor and her staff directly at the emails below to ensure she gets it. Then follow-up with a quick phone call. You will likely get the answering machine but it's important to leave a message. Tell her you are a citizen of RI and a voter and you are strongly against the plant.
Contacts:
Email the Governor and her staff: governor@governor.ri.gov, lisa.vuraweis@governor.ri.gov, beane.eric@governor.ri.gov, and sam.s.marullo@governor.ri.gov
Call the Governor: (401) 222-2080
Then contact Providence Mayor Elozra and thank him for his support in protecting Rhode Island's water and ask him to direct his staff to see if they can stop the sale of our water for the power plant. Email: Elorza@providenceri.gov Phone: (401.421.2489)
Then, if you still have some time, you can contact the Mayor of Johnston to let him know what you think about his selling of Rhode Island's water for the proposed power plant and how he did it. Phone: 401-351-6618
Thank you for your support. We are all in this together and remember, it's a matter of trust!